Today i will be discussing a platform which will be of great relevance and importance to the everyone. The project is of the concept of providing a comprehensive record of each cars history. It was all conceptualized as a result of prevailing problems which will be explained further. Today, we have everyone obtaining used cars and all but a very few percentage if not all knows the history of that car. This lack of information brings about third-party industries, where intermediary and agents have more leverage in the deal than the actual engaging parties. Now, looking into the used car industry, it is growing with a large revenue being generated as we have different brands of cars, different prices and all. Looking at the market growth in the recent years, 95 millions of cars were sold in 2016. The issue of lack of information has also resulted in other problems to bringing about a need for a platform to solve this.
In 1970, a renounced economist and Nobel prize winner George Akeriof opined that the lopsided way in which information about used vehicles positioned for sale faced is distortion-thus describing such market as one with asymmetric information. He furthered that when selling a car, the seller typically knows immensely about the history of the vehicle far better than the buyer and as such, this opens up the possibility for fraud against the buyer. Hence just as old adage goes: if hunters can shoot without missing, then we will fly without perching-buyers now create a hedge against the risk of buying a bad car at an exorbitant price. This according to Akeriof theory can ruin the entire used vehicle market. Here is a more vivid analysis of how that can happen:
1.Once a buyer cannot distinguish between a good car and a bad one he will be willing to pay less,hence the average price of the vehicle is reduced.
Because the price is low,most sold used vehicles are of poorer if not poorest quality, this can further extinct marketers of good vehicles.
3 Consequent upon that,average quantity of good cars in this market deteriorates, so buyers shall be paying less than before.
4.Final result: complete disappearance of the market.

What is Vinchain?
VinChain is a blockchain database that records all information pertaining to vehicles. With vinchain, each vehicle information accumulates during the entire period of use. This history is transparent and accessible to everyone. Vinchain simply solves the problem of asymmetrical information in the used vehicle market by creating a decentralized, immutable, transparent, secure, and reliable vehicle lifecycle repository. Vinchain simply uses blockchain technology to solve these problems. For each car, vinchain will issue a blockchain-passport, which will be stored in a distributed registry. This will result in the assembling of all the data about a vehicle (such as Car dealers, car manufacturers, insurance companies, banks etc) which is the major task of the platform.
How it works



Vinchains primary customers will be consumers buying a vehicle. Tens of millions of cars are sold each year and many of these will require a car history report so this consumer market should be substantial. This is not Vinchains only market however. There is also the B2B market as well. Insurance companies will be able to use the information on the Vinchain blockchain before they make insurance payments. These will help to insure cars are insured on their actual state as well as to identify bad cars.
Also, Car dealers will be able to use the Vinchain blockchain in order to provide a more accurate analysis of a cars market value. When they sell a car they will be able to provide more detailed information about it which should be seen as advantage by customers. Vinchain tends to be of great benefit to all the entities involved in the industry. Pinpointing its major benefits
Blockchain can store any information about the vehicle maintenance.
Absolute reliability
Transparent system of awards for the data suppliers
Resistance to network attacks, etc.
WHAT VINCHAIN WILL LOOK LIKE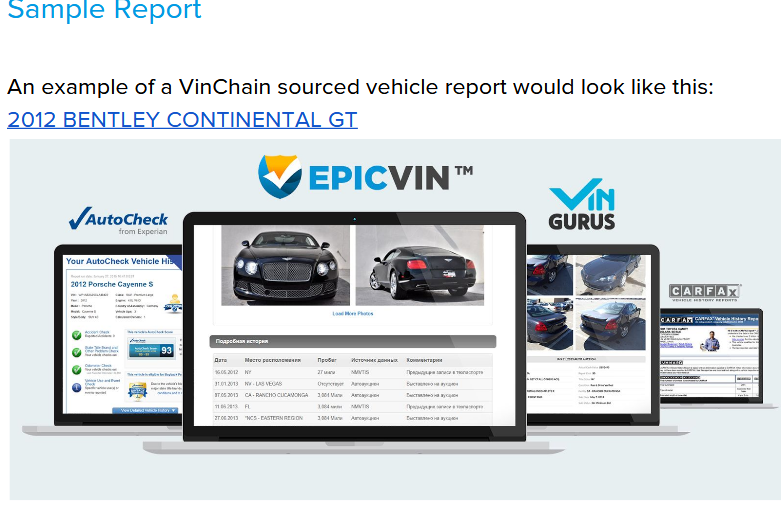 About Token sale and distribution
ICO will be held from March, 22d through April, 15th, 2018. Payment methods available for the VinChain tokens: Bitcoin (BTC), Ethereum (ETH),Riple (XRP), Litecoin (LTC), Waves (WAVES), USD, EUR, GBP
Available for placement: 600,000,000 tokens.
The tokens will be distributed between the buyers within 72 hours of the ICO finishing.
Hard cap
Maximum investment amount: $34,500,000.
Bonuses and Discounts
The amount of tokens sold Price
0–1 000 000 1 ETH — 20.000 VIN
1 000 001–5 000 000 1 ETH — 17.140 VIN
5 000 001–12 500 000 1 ETH — 15.000 VIN
12 500 001–100 000 000 1 ETH — 12.000 VIN
100 000 001–250 000 000 1 ETH -10.910 VIN
250 000 001–612 500 000 1 ETH — 10.000 VIN
The distribution pattern of tokens is the following:
The distribution pattern of Genesis block in VinChain Network will include 1,000,000,000 utility tokens.
For more information, Visit:
Official Website: https://vinchain.io/
Whitepaper Link: https://vinchain.io/files/white_paper.pdf
Telegram Channel: https://t.me/vinchainio
Official Twitter: https://twitter.com/VINChain_io
Official Medium: https://medium.com/@VINChain
My Bitcointalk Profile link: https://bitcointalk.org/index.php?action=profile;u=1048662