What is Databroker?
Databroker DAO (Data Service) is the first marketplace to sell & buy sensor data. As a decentralized marketplace for IoT sensor data using Blockchain technology, Databroker DAO enables sensor owners to turn generated data into revenue streams. This will open up a wealth of opportunities for various industries. Data will be used and become more effective.
PLATFORM
The DAO DataBroker platform, based on one of the most reliable and advanced technologies - the blockchain system, works as efficiently as possible but is simple and processes are transparent to each user and are as transparent as possible. Anyone can quickly join the DAO DataBroker system and buy data and sell the results of their IoT sensors, not only earning a profit but also be developing urban infrastructure, science, technology and many other areas.
The platform implements processes in its framework thanks to its tokens, which guarantee the stability and reliability of each operation.
CROWD SALE
It can be said that the DAO idea and design of DataBroker are a bit early and may seem insufficiently sought among other projects in this market more related to modern conditions. However, DAO DataBroker developers definitely got the idea, leading the company towards a global and developed future.
ABOUT THE PROJECT
Databroker will be unlocking the potential and monetization of IoT sensor data. Individuals, companies, researchers & governments are spending hundreds of billions each year on buying and maintaining IoT sensors.The growth of the investment and applications in IoT is truly staggering, and yet, all data captured by these devices is locked up in silos and walled garden
DataBroker DAO can be likened to a "secondary market" for IoT sensor data and has been referred to as an "eBay" or "Amazon" for IoT sensor data. By providing a distributed foundational layer for the buying and selling of IoT sensor data, we expect that unimagined uses of data that exist in the hearts and minds of entrepreneurs, researchers, and organisations around the world, will emerge to create incredible value-adding services that enrich the quality of life in our cities and our societies as a whole.
HOW IT WORKS

ROAD MAP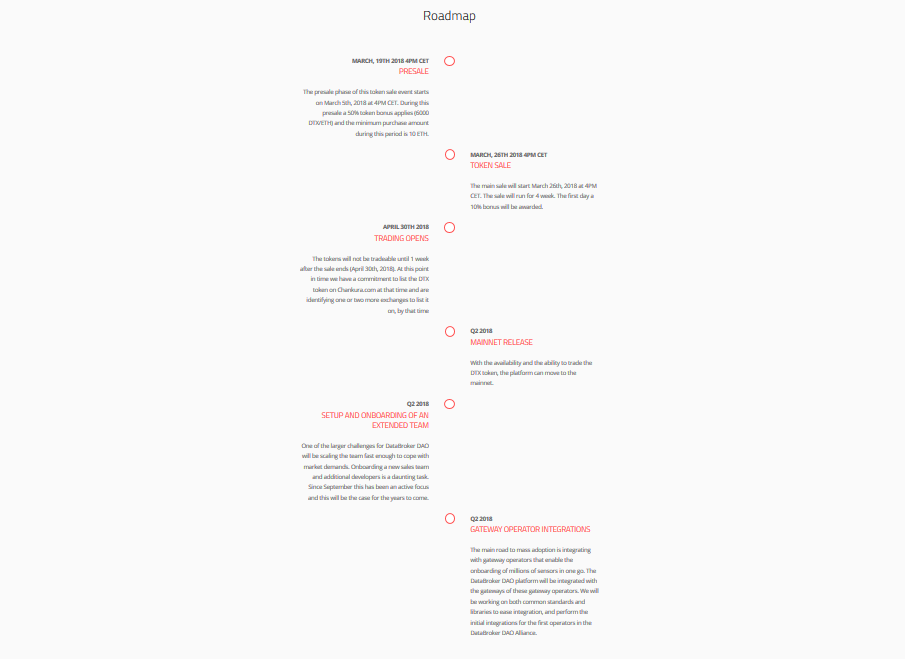 CROWD SALE
TOKEN SALE: 26 MAR – 23 APR
TICKER: DTX
Token type: ERC20
ICO Token Price: 1 DTX = 0.16 USD (0.00025 ETH)
Fundraising Goal: 17,700,000 USD (27,000 ETH)
Total Tokens: 225,000,000
Available for Token Sale: 48%
KNOW YOUR CUSTOMER (KYC): YES
Bonus for the First: TOKEN SALE DAY 1 - 10%
Accepts: ETH
TOKEN DISTRIBUTION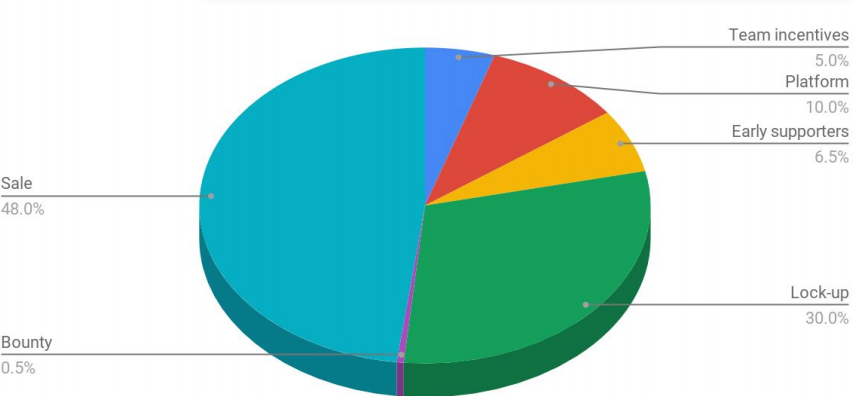 For more information visit the links below
Website: https://databrokerdao.com/
White Paper: https://databrokerdao.com/whitepaper/WHITEPAPER_DataBrokerDAO_en.pdf
Telegram: https://t.me/databrokerdao
ANN: https://bitcointalk.org/index.php?topic=2113309.0
Bitcointalk profile link: https://bitcointalk.org/index.php?action=profile;u=1082634