Blockchain is a basic technology like the Internet itself-a large system that allows applications to be built on it and values to be stored and transferred securely through public transparent ledgers. And we all know the blockchain technology is taking over the world today. A lot of people are nervous and confused on a blockchain to invest in and also have a good project. Not to worry again the PECUNIO PROJECT is here.The notion of a decentralized, global network of payments on the cheap and the completion of time has profound implications throughout the financial system worldwide.



WHAT IS PECUNIO?
Pecunio is a decentralized investment platform with a cryptocurrency card and a free digital currency exchange, allowing easy saving and spending of crypto assets. We are the one-stop shop for the average non-tech-savvy user, high equity investor as well as angel and venture capitalists. The platform covers the whole lifecycle of blockchain innovation, from angel & venture capital investments, to initial coin offerings, to exchange-traded currencies and tokens.
VISION
Pecunio's mission is to open the vibrant cryptocurrency market to everyone, encouraging blockchain adoption and democratizing ownership of cryptocurrencies. As the economic fruits of technological innovation are usually harvested by affluent investors with deep pockets and insider knowledge only, Pecunio now makes it possible to own, transfer and invest into cryptocurrencies like Bitcoin, Ethereum & others by the average individual, allowing participation in the new economy.
HOW IT WORKS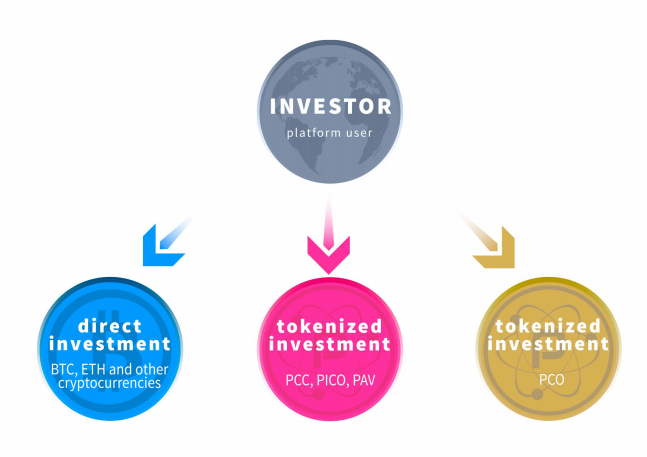 The Pecuino wallet is Written in JavaScript, apart from other Bitcore framework. They also ensure that the required speed is met by integrating hardware-friendly programming language. Apart from this, PCO asset contract collects 2-6% yearly management fees, apart from the performance fees which will vary depending on the fun offering.
The application aspects are also very simple for the user standpoint. They have a basic sign up procedure using their email address, post which, the user's wallet is integrated and they are redirected to the user dashboard.
Features of the Platform
A CRYPTOCURRENCY CARD
A multi-asset prepaid debit card, enabling token spending in fiat currencies around the world. These prepaid debit card payments without local exchange fees make digital currency spending a whole lot easier. Pecunio enables cryptocurrency spending with instant liquidity.
AN ICO INCUBATOR, A BLOCKCHAIN START-UP ANGELIST
Our expertise in traditional and hedgefund management qualifies us to accompany blockchain businesses successfully spreading their wings. We launch ICO campaigns with a dedicated fund, management support, legal advice and more. Pecunio shares the profits with its token holders.
A INVESTMENT PLATFORM AND EXCHANGE
By tokenizing all our funds and assets, all investment are safe put into selected blockchain assets. All major cryptocurrencies are going to be interchangeable on our platform. Pecunio is introducing a new platform that will disrupting existing technology by solve the challenges of crypto spending and permit a secure management of crypto assets in a safe and straightforward method.
Benefits of pecunio
Grants access: Pecunio offers multicurrency wallets and safe market access for all crypto market businesses via an easy-to-use interface.

easy: Easy registration via e-mail, instant account set-up including wallet, easy deposit, easy payout via PayPal, bank transfer or cryptocurrencies.

trustworthy: Guaranteed legal security at the financial center in Dubai. Physical office locations in Vienna and Dubai

safe.: Encrypted communication, safe transfers due to cold-storage wallets, wallet management prevents loss of key
ROADMAP

CROWD SALE
Pre-ICO: February 1st — 21st 2018
ICO: March 19th — April 19th 2018Bonus stages:
February 1st — 21st 2018: 25% BONUS ClosedMarch 19th — April 19th 2018: 0% BONUSAvailable in ICO: 30,000,000
PCO Full supply: 100,000,000 PCO
Hard-cap: $ 45,000,000
Token Symbol:PCO
Accepted currencies:
BTC, ETH, LTC, national bank money
Exchange Rate: 1 PCO = $ 1.5 US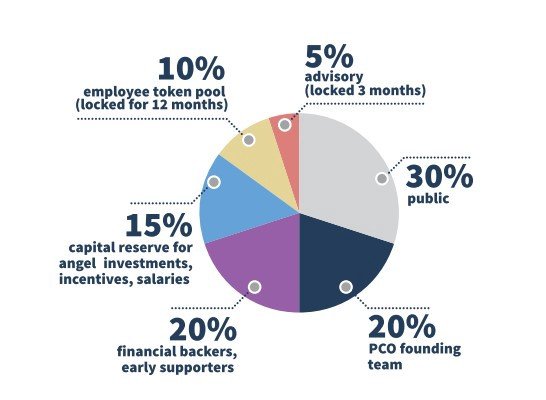 For more information visit the links below
WEBSITE: https://www.pecun.io
FACEBOOK: https://www.facebook.com/PecunioFund/
TWITTER: https://twitter.com/Pecun_io/
TELEGRAM: https://t.me/pecuniochat
REDDIT: https://www.reddit.com/user/PECUNIO/
BITCOINTALK PROFILE: https://bitcointalk.org/index.php?action=profile;u=1082634