We are living in the digital revolution, where the Internet has become part of basic literacy, the connection between people is instantaneous, and knowledge is available at a single click of the mouse.
INTRODUCTION
Vivid is disrupting the way people interact, understand, and communicate their crypto portfolio. From advanced technical indicators to viewing your holdings in a whole new dimension, to collaborating with others on advanced trading concepts, our aim is to advance the possibilities for both seasoned traders and enthusiastic newcomers alike.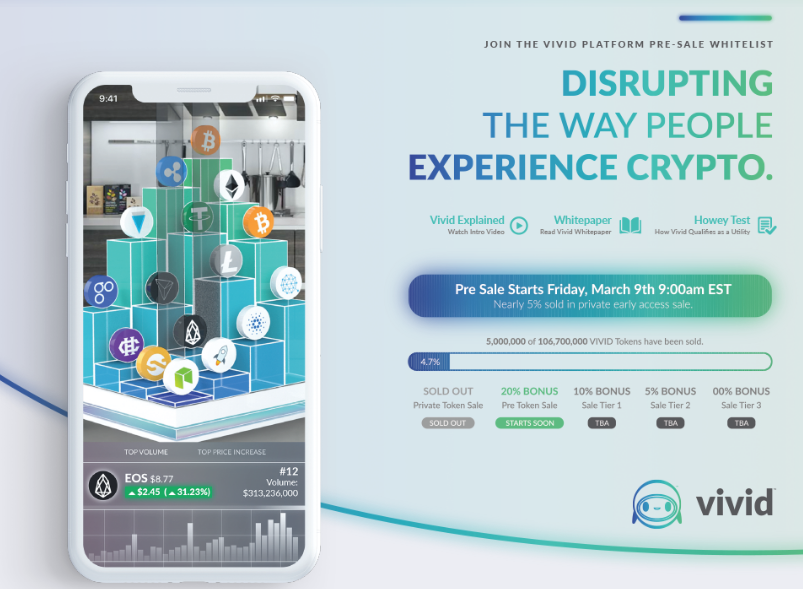 ECO SYSTEM
Vivid's platform ecosystem is designed to be released in phases as the company, the community, and the feature sets evolve. A comprehensive approach has been taken in structuring a solidified development pipeline.
BLOCKCHAIN
The vivid token is an ERC20 Ethereum based token, it is the utility device that allows users of various demographics to connect and utilize the Vivid platform, including but not limited to: access to professional grade features, voting on user-generated content and access to advertising space inside the platform.
FEATURES OF THE PROJECT
Exchanges and Market Data: The platform utilizes a number of key API's from a wide range of exchanges and market data aggregation services in order to collect historical coin data, as well as provide real-time market data to our users. Features such as technical indicators are utilizing this provided data to perform calculations locally on the client devices in order to produce charts and graphs. Our core services aggregate this widespread data collection in order to provide it via abstraction layer over the network to client devices.
Augmented Reality: Utilization of the leading Android and iOS devices allows the Vivid platform to extend into 3D space, and into user's real-world environments in a seamless fashion. Utilizing the same data provided by our core services the Vivid AR experience extends key charts and graphs such as singular coin charts, technical analysis indicators, and top performing coin charts into 3D space. Additionally, the use of 'Accessories' in the form of 3D objects and animations can be placed into a user's real world environment alongside their charts and graphs, to provide a unique photo and video sharing opportunity. For example, a user can photograph their new.
PORTFOLIO MANAGEMENT: TRACK AND UNDERSTAND YOUR CRYPTO
Log and manage your crypto assets with best in class charts, drawing tools, indicators, and more
MODULAR INDICATORS
VIEW YOUR CHARTS THE WAY YOU WANT
Our mobile and desktop applications let users add a wide range of custom indicators to their charts. With VIVID tokens, users can unlock more powerful indicators and will one day be able to upload their own for others to download.
Advantages of the VividToken platform:
Ease of use; This is a platform that benefits both experienced traders and beginners in this field.

Time and reliability; The global architecture of a redundant system means that Vivid and its services support a high degree of consistency.
Decentralized content; Thanks to the public publication of Vivid content, users themselves decide what is going up.

The agnostic device; No matter what equipment you have, smartphone, laptop or other high-speed devices, Vivid will be available to any user.

Cooperation; Involvement of all interested in various aspects of the cryosphere, in real time.
ABOUT ICO AND TOKEN SALE
Sale begins on March 9, 2018, at 09.00. There will also be a 20% bonus.
Title: VIVID
Price: 1 ETH = 10,000 VIVID
Type: ERC20
TOTAL SUPPLY: 140,000,000
HARD CAP: 9,950 ETH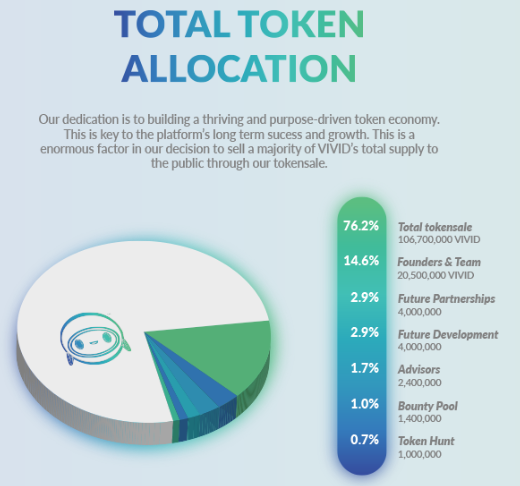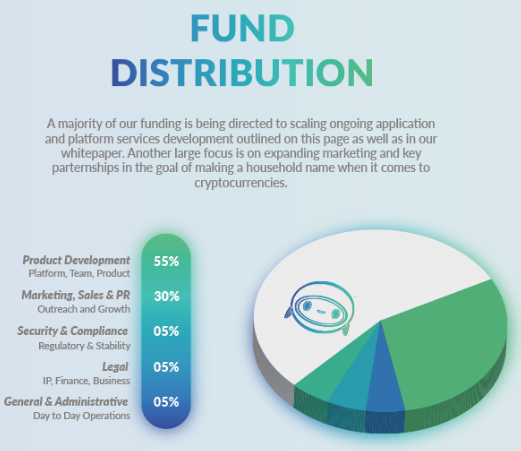 For more information visit the link below
Website: https://vividtoken.com/
Whitepaper: https://vividtoken.com/whitepaper/vividtoken_en.pdf
Facebook: https://www.facebook.com/VIVIDtoken/
Twitter: https://twitter.com/VIVIDtoken
Telegram: https://t.me/VIVIDtoken
Author: https://bitcointalk.org/index.php?action=profile;u=1082634